Maya Little
User
Bluexdog
Gender
Female
Age
22
Profession
Pragmatist
Role
First Mission
Missions Survived
0
Reason assigned to HMRC
Assassination
Status
Dead
Appearance
Edit
At Character Creation
Edit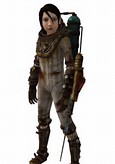 Current, Out of Armor
Edit
Still the same.
A human in a standard Mk I Suit
Personal Information
Edit
Maya is a rather quiet Girl, at a young age her parents died and she was taken in by a kind order of assassins who gave her knives, swords, and some other cool stuff, when she turned 21 she was given her first target, which went perfectly well until she got knocked out from behind
Reason assigned to HMRC: Assassination of a very wealthy man
Cause of death: Round from gauss turret through head.
Attributes
Edit
Stats
Name
Points
Bonus
Strength
3
0
Dexterity
5
+1/3
Endurance
3
0
Charisma
2
-1
Intelligence
4
0
Willpower
1
-1
Intuition
2
-1
Skills
Name
Points
Bonus
Conventional
0
-2
Unconventional
3
+1
Exotic
0
-1
Handiwork
0
-1
Auxiliary
0
-1
Medical
3
0
Gen. Knowledge
2
-1
Status: Dead.
Inventory
Edit
On Person
Armor
Weapons
Other stuff
Locker
Mission History
Edit
Last Levelup: Never
Ad blocker interference detected!
Wikia is a free-to-use site that makes money from advertising. We have a modified experience for viewers using ad blockers

Wikia is not accessible if you've made further modifications. Remove the custom ad blocker rule(s) and the page will load as expected.